As noted above, my first collection in thirty years, Blackbirds Dance in the Empire of Love, due out in October from Finishing Line Press, may be preordered; visit the blog I've set up for it here....
Photo - Steven Kelly
drove us out of Albuquerque,
so that after eight hours
on Route 66, we found ourselves
on a half-tarred road notched
small family grafted to one another
like an ebony four-leaf clover
pendant, pieces that would never
break away from the whole.
In full-blown DT's our mother
young brother with me in the back
of the US Forest Service Chevy sedan
for such forays through high country
to tally beetle-killed trees,
and collect the unwelcome dwarf mistletoe
We nosed up into the season
on icy switchback shoulders
you didn't dare pass slower traffic on;
chain-smoking, my mother clung to my father
and I held my brother's hand on the back seat,
now and then looking down
where buzzards rode the downdraft
in their gyre over mule deer carrion.
we had provisioned ourselves
for, unpeeled tongue and groove,
rocking back against red cliffs:
the nearby fields were pocked with lamb-heavy
woolly Churro ewes, heads down
in December's diffident wind.
A fire burning high with a pinon knot,
left for us in the freezer by the ranger
issue of territorial stock,
tumbled into the cabin's gloom,
but she, slamming down scotch,
Like the last aspen leaf of an early autumn,
she shook at the hearth, sparks snapping
You have to take me back.
I have to go back.
This was every year's gift,
new ordeal tied up with a ribbon
sangre de Cristo red--
by her fear, this ungrown thing
no one had been able to fix,
not even with vaunted shock treatments
so that we could be the children again,
not the parents, not the ones
holding our breath over an ice-slick pass
at dusk, boring through a blizzard
at his other job, putting out fires from
the ashes she left like bread crumbs
wherever she wandered the night long
copyright Jenne' R. Andrews 2013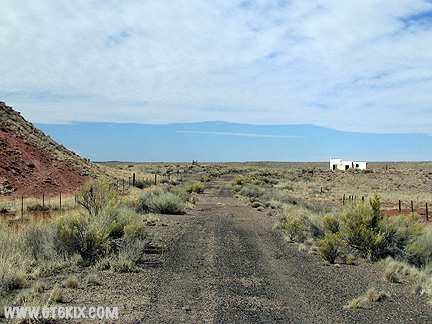 The old Route 66, and the Painted Desert Trading Post ruin...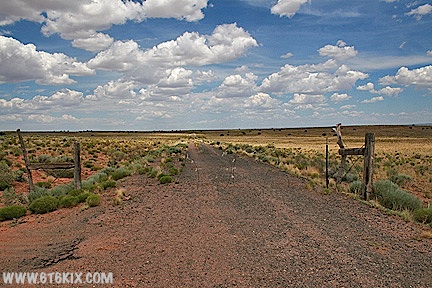 Route 66 into the Navajo Reservation